Product Description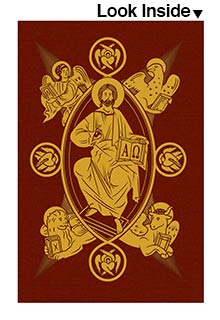 The Holy Gospel book contains the full text of the four Gospels, marked according to liturgical use in the Orthodox Church. It uses the Eastern/Greek Orthodox Bible (EOB), a formal Modern English translation from the Patriarchal Text of the Ecumenical Patriarchate, the official Greek translation of the Orthodox Church. Designed for both private reading and liturgical use, The Holy Gospel contains an extensive, Pan-Orthodox calendar of liturgical readings; detailed instructions for use; a complete table of moveable dates through the year 2100; translation notes and footnotes; and more. Four ribbon bookmarks make use easy.
Attention to design was very important to this project. The Gospel Book features beautiful black-and-red printing and gorgeous full-page iconography and ornamentation. Complete with a handsome foil-stamped, cloth-bound hardcover, it is a dignified and holy book worthy of the words of Christ contained within.
No home prayer library is complete without The Holy Gospel. It would likewise find a perfect place in a clergy home visit kit, travel altar, or church confessional. Makes a perfect gift for graduates and any occasion.
Book Details
Dimensions: 5 x 7.5 inches (similar to popular pocket-size prayer books)
Cover: Hardcover, cloth bound, with gold foil stamp design on front and back
Pages: 418 archival paper pages, two-color printing, 4 ribbon bookmarks
Language: English (EOB Bible Translation)
Published by Saint Ignatius Orthodox Press
Product Reviews
Write Review
Showing reviews 1-10 of 30 | Next
Wonderful Gospel Book

Posted by Phillip on Dec 5th 2019

This book makes reading the Gospels an even greater delight. The paper feels like it has more "character" than ordinary thin Bible type paper. The guides for reading are helpful, and there are prayers at the beginning and end of the Gospel that ask for help in understanding and applying the Gospel to our lives. There are plenty of calendars, guides, etc for movable feasts and such. It is all fairly easy to follow and understand (and I am not a full Orthodox Member).

The one thing that I wish could have been avoided (but I don't think it is possible) is the tightness of the spine/binding. Whenever I open the book, I fear that I am going to break the binding, however, slow, careful, and consistent reading will eventually loosen the spine and remedy the problem. I look forward to the release of the Epistles.

Excellent Gospel, Excellent Value!

Posted by Erik Weaver on Nov 15th 2019

This is a lovely Book of the Gospels, and at only $30 it is very reasonable and offers a very good value. I only wish they also offered the Book of the Epistles! :)

Love it!

Posted by Ryan on Aug 28th 2019

I love having this Gospel. It looks very classy and attractive, but very usable! Can't wait for the release of the Epistles, too!

AN OUTSTANDING EDITION

Posted by Protodn David on Jul 24th 2019

This edition of the Holy Gospel is excellent! The font is easy to read; the text is well laid out; the various tables and indexes are helpful. I would have preferred icons on the incipit pages to each Gospel. The publisher should produce the same text in an altar size. The price is more than reasonable but the postage from the US to Canada is far too high.

A must-have for every home

Posted by Unknown on Jun 8th 2019

Absolutely stunning: from the the print quality, to the images, to font, etc. It is so pleasant to use! And it is very reader-friendly: the calendar at the the back is complete and easy to use, and the notes in the margins are clear. We absolutely love it! And we look forward to the Epistle book.

Beautiful Gospel!

Posted by Fr. Tom on Apr 3rd 2019

This Gospel is wonderful. Great translation and very easy to read.

I hope it is made in a bigger size for use at the Holy Table.



Elegant look

Posted by Unknown on Mar 5th 2019

The Bible is beautiful and people that sees attracts them and ask to see. Quality, ease to carry around and words are easy to read.

portable

Posted by Unknown on Jan 8th 2019

Very nice. I use it to read the Gospel reading for every Divine Liturgy. I highly recommend it.

Best Available Option for Orthodox Bible reading, hands down.

Posted by G.B. on Dec 22nd 2018

Beautiful, powerful, full of grace, the best English translation available... Everything I could want in a Gospel. Glory to God!

Best Available Option for Orthodox Bible reading, hands down.

Posted by G.B. on Dec 22nd 2018

Beautiful, powerful, full of grace, the best English translation available... Everything I could want in a Gospel. Glory to God!
Showing reviews 1-10 of 30 | Next
Find Similar Products by Category