Description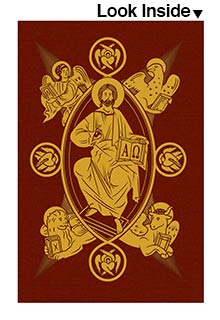 The Holy Gospel book contains the full text of the four Gospels, marked according to liturgical use in the Orthodox Church. It uses the Eastern/Greek Orthodox Bible (EOB), a formal Modern English translation from the Patriarchal Text of the Ecumenical Patriarchate, the official Greek translation of the Orthodox Church. Designed for both private reading and liturgical use, The Holy Gospel contains an extensive, Pan-Orthodox calendar of liturgical readings; detailed instructions for use; a complete table of moveable dates through the year 2100; translation notes and footnotes; and more. Four ribbon bookmarks make use easy.
Attention to design was very important to this project. The Gospel Book features beautiful black-and-red printing and gorgeous full-page iconography and ornamentation. Complete with a handsome foil-stamped, cloth-bound hardcover, it is a dignified and holy book worthy of the words of Christ contained within.
A perfect companion to The Holy Apostle, no home prayer library is complete without The Holy Gospel. It would likewise find a perfect place in a clergy home visit kit, travel altar, or church confessional. Makes a perfect gift for graduates and any occasion.
Book Details
Dimensions: 5 x 7.5 inches (similar to popular pocket-size prayer books)
Cover: Hardcover, cloth bound, with gold foil stamp design on front and back
Pages: 418 archival paper pages, two-color printing, 4 ribbon bookmarks
Language: English (EOB Bible Translation)
Published by Saint Ignatius Orthodox Press
Delivery & Returns
PRODUCTION
Our icons are hand-crafted and made-to-order. Allow time for production. Please visit our Shipping FAQ page for more information about how long you can expect production to take.
SHIPPING
We can ship to virtually any address in the world. Note that there are restrictions on some products, and some products cannot be shipped to international destinations. Also note that we ship international orders DDU. When you place an order, we will estimate shipping and delivery dates for you based on the availability of your items and the shipping options you choose. Depending on the shipping provider you choose, shipping date estimates may appear on the shipping quotes page. Click here to learn more about shipping.
RETURN POLICY
We allow returns for many of our items, but restrictions apply. Please visit our Return Policy page for more information.
Customer Reviews
Format makes it easier to read

Format makes it easier to read

This is a great gift for any occasion but perfect for diaconal ordinations.

The amount of love and care that has been put into the production of this volume is overwhelming. I think this could be the most beautiful book I've ever seen. I'm excited to use it in my devotions! Thanks for a truly exceptional book

Excellent design, craftsmanship, and quality of materials

This Gospel book is a work of art. The design choices, layout, construction, and quality of materials is amazing, for the cost. The form encourages a reader to encounter the text as a narrative rather than as a list of verses. The guides for use through the calendar year are skillful, unobtrusive, and helpful, for those who wish to refer to them. Would make a great gift.

The book and translation are good. But there are to issues 1. The gold on the front and back comes off with even the lightest of use 2. The book is far too tightly bound and will never lie flat ----- Legacy Icons Response: We have had a few people contact us about the gold coming off, but we have not been able to establish this, nor has this happened with any of the copies we have handled ourselves. If you could send some photos it would help us better understand the problem. As for the binding, it is very high quality; we would recommend gently working the binding throughout the book until it is the way you like it. (This skill used to be taught in schools but has really become a lost art over the last 75-100 years or so.)

The Holy Gospel (by St Ignatius Press)

I love this book. It's a perfect addition to my prayer-corner, and I actually use it for scripture study. The quality of the printing is wonderful, and it's filled with traditional icons. I love this book so much that I've given it as gifts to people. Highly recommended.

The quality and care put into crafting The Gospels book has to be seen to be believed. The look inside and out is artful, with few but wonderful illustrations. The text is formatted to read with great ease, and the feel from cover to page causes me read with great care. The finest book in my collection for quality and of course, above all, content.

This book makes reading the Gospels an even greater delight. The paper feels like it has more "character" than ordinary thin Bible type paper. The guides for reading are helpful, and there are prayers at the beginning and end of the Gospel that ask for help in understanding and applying the Gospel to our lives. There are plenty of calendars, guides, etc for movable feasts and such. It is all fairly easy to follow and understand (and I am not a full Orthodox Member). The one thing that I wish could have been avoided (but I don't think it is possible) is the tightness of the spine/binding. Whenever I open the book, I fear that I am going to break the binding, however, slow, careful, and consistent reading will eventually loosen the spine and remedy the problem. I look forward to the release of the Epistles.

Excellent Gospel, Excellent Value!

This is a lovely Book of the Gospels, and at only $30 it is very reasonable and offers a very good value. I only wish they also offered the Book of the Epistles! :)