Description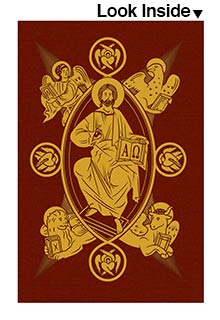 The Holy Gospel book contains the full text of the four Gospels, marked according to liturgical use in the Orthodox Church. It uses the Eastern/Greek Orthodox Bible (EOB), a formal Modern English translation from the Patriarchal Text of the Ecumenical Patriarchate, the official Greek translation of the Orthodox Church. Designed for both private reading and liturgical use, The Holy Gospel contains an extensive, Pan-Orthodox calendar of liturgical readings; detailed instructions for use; a complete table of moveable dates through the year 2100; translation notes and footnotes; and more. Four ribbon bookmarks make use easy.
Attention to design was very important to this project. The Gospel Book features beautiful black-and-red printing and gorgeous full-page iconography and ornamentation. Complete with a handsome foil-stamped, cloth-bound hardcover, it is a dignified and holy book worthy of the words of Christ contained within.
A perfect companion to The Holy Apostle, no home prayer library is complete without The Holy Gospel. It would likewise find a perfect place in a clergy home visit kit, travel altar, or church confessional. Makes a perfect gift for graduates and any occasion.
Book Details
Dimensions: 5 x 7.5 inches (similar to popular pocket-size prayer books)
Cover: Hardcover, cloth bound, with gold foil stamp design on front and back
Pages: 418 archival paper pages, two-color printing, 4 ribbon bookmarks
Language: English (EOB Bible Translation)
Published by Saint Ignatius Orthodox Press
Delivery & Returns
PRODUCTION
Our icons are hand-crafted and made-to-order. Allow time for production. Please note that your chosen shipping method does not include production time. (For example, if you select 2 day shipping, your order will be delivered 2 days after it ships, not 2 days after the order is placed.) Please visit our Shipping FAQ page for more information about how long you can expect production to take.
SHIPPING
We can ship to virtually any address in the world. Note that there are restrictions on some products, and some products cannot be shipped to international destinations. Also note that we ship international orders DDU. When you place an order, we will estimate shipping and delivery dates for you based on the availability of your items and the shipping options you choose. Depending on the shipping provider you choose, shipping date estimates may appear on the shipping quotes page. Click here to learn more about shipping.
RETURN POLICY
We allow returns for many of our items, but restrictions apply. Please visit our Return Policy page for more information.
Customer Reviews
I love having this Gospel. It looks very classy and attractive, but very usable! Can't wait for the release of the Epistles, too!

This edition of the Holy Gospel is excellent! The font is easy to read; the text is well laid out; the various tables and indexes are helpful. I would have preferred icons on the incipit pages to each Gospel. The publisher should produce the same text in an altar size. The price is more than reasonable but the postage from the US to Canada is far too high.

A must-have for every home

Absolutely stunning: from the the print quality, to the images, to font, etc. It is so pleasant to use! And it is very reader-friendly: the calendar at the the back is complete and easy to use, and the notes in the margins are clear. We absolutely love it! And we look forward to the Epistle book.

This Gospel is wonderful. Great translation and very easy to read. I hope it is made in a bigger size for use at the Holy Table.

The Bible is beautiful and people that sees attracts them and ask to see. Quality, ease to carry around and words are easy to read.

Very nice. I use it to read the Gospel reading for every Divine Liturgy. I highly recommend it.

Best Available Option for Orthodox Bible reading, hands down.

Beautiful, powerful, full of grace, the best English translation available... Everything I could want in a Gospel. Glory to God!

Best Available Option for Orthodox Bible reading, hands down.

Beautiful, powerful, full of grace, the best English translation available... Everything I could want in a Gospel. Glory to God!

I am very pleased with this book of the gospels . It's a fitting volume for the life and teachings of our Lord and Savior . The quality binding and four ribbon markers sets it apart from so many others .

This Holy Gospel is a high quality product. Beautifuly craftet outside. Very good readable letters. Indispensible for every prayer corner at home!