Product Description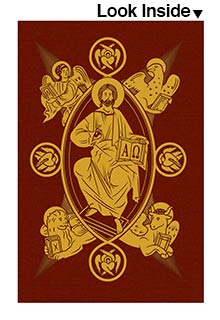 NOW SHIPPING!
The Holy Gospel book contains the full text of the four Gospels, marked according to liturgical use in the Orthodox Church. It uses the Eastern/Greek Orthodox Bible (EOB), a formal Modern English translation from the Patriarchal Text of the Ecumenical Patriarchate, the official Greek translation of the Orthodox Church. Designed for both private reading and liturgical use, The Holy Gospel contains an extensive, Pan-Orthodox calendar of liturgical readings; detailed instructions for use; a complete table of moveable dates through the year 2100; translation notes and footnotes; and more. Four ribbon bookmarks make use easy.
Attention to design was very important to this project. The Gospel Book features beautiful black-and-red printing and gorgeous full-page iconography and ornamentation. Complete with a handsome foil-stamped, cloth-bound hardcover, it is a dignified and holy book worthy of the words of Christ contained within.
No home prayer library is complete without The Holy Gospel. It would likewise find a perfect place in a clergy home visit kit, travel altar, or church confessional. Makes a perfect gift for graduates and any occasion.
Book Details
Dimensions: 5 x 7.5 inches (similar to popular pocket-size prayer books)
Cover: Hardcover, cloth bound, with gold foil stamp design on front and back
Pages: 418 archival paper pages, two-color printing, 4 ribbon bookmarks
Language: English (EOB Bible Translation)
Published by Saint Ignatius Orthodox Press
Product Reviews
Write Review
Previous | Showing reviews 11-15 of 15
A Necesity for Christians Everywhere

Posted by Anonymous on Oct 31st 2018

I am a supporting donor of the project to bring this book to print and I could not be more happy with how this turned out. Everything Legacy Icons had planned and promised was delivered and delivered well.

I had been wanting a book of gospels for personal use for some time. All the offerings in current print from other publishers were not suitable for travel and I do travel frequently. This book is a perfect size for keeping at home or taking with you.

The quality of the book itself is very high. So many modern published books use low quality glue or paper in the binding to cut cost, but every book I have from the printer who created this gospels book (and other materials from other religious bodies) is very well made.

I hope to use this book for many years and that it can bring the Word of God to many in the world. Treat yourself with this work, you won't regret it.

Wonderful and Useful

Posted by James Sullivan on Oct 23rd 2018

This is a terrific book for personal devotions and keeping in your prayer corner, or for bringing with you. If you are following the liturgical yearly reading cycle, it lists the full cycle of readings, and the tools for following those readings for whichever calendar your parish is on. It has been especially useful for discussion with my family too.

The binding is well done, the 4 bookmarks let you save multiple points for quick reference, the typeface is clean and easy to read, and the illustrations are beautiful.

As a size comparison, the Gospel Book is slightly larger and thicker than the blue Pocket Prayer Book published by Holy Transfiguration Monastery, and in fact complements that volume so well you'd think they're part of the same set.

i love it

Posted by Catherine on Oct 20th 2018

This book will help you grow with God it's great for Sunday school. It's not big or heavy is small enough to put in your purse I will recommend you to get this book

i love it

Posted by c on Oct 20th 2018

This book will help you grow with God it's great for Sunday school. It's not big or heavy is small enough to put in your purse I will recommend you to get this book

Beautiful Gospel Book

Posted by Joe on Oct 19th 2018

I am very pleased with this Gospel Book. It is small enough to be able to take with me and yet large enough to actually read. The print and art work are great!
Previous | Showing reviews 11-15 of 15
Find Similar Products by Category