Product Description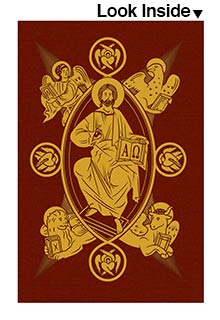 NOW SHIPPING!
The Holy Gospel book contains the full text of the four Gospels, marked according to liturgical use in the Orthodox Church. It uses the Eastern/Greek Orthodox Bible (EOB), a formal Modern English translation from the Patriarchal Text of the Ecumenical Patriarchate, the official Greek translation of the Orthodox Church. Designed for both private reading and liturgical use, The Holy Gospel contains an extensive, Pan-Orthodox calendar of liturgical readings; detailed instructions for use; a complete table of moveable dates through the year 2100; translation notes and footnotes; and more. Four ribbon bookmarks make use easy.
Attention to design was very important to this project. The Gospel Book features beautiful black-and-red printing and gorgeous full-page iconography and ornamentation. Complete with a handsome foil-stamped, cloth-bound hardcover, it is a dignified and holy book worthy of the words of Christ contained within.
No home prayer library is complete without The Holy Gospel. It would likewise find a perfect place in a clergy home visit kit, travel altar, or church confessional. Makes a perfect gift for graduates and any occasion.
Book Details
Dimensions: 5 x 7.5 inches (similar to popular pocket-size prayer books)
Cover: Hardcover, cloth bound, with gold foil stamp design on front and back
Pages: 418 archival paper pages, two-color printing, 4 ribbon bookmarks
Language: English (EOB Bible Translation)
Published by Saint Ignatius Orthodox Press
Product Reviews
Write Review
Previous | Showing reviews 11-20 of 24 | Next
The beauty of Good News!

Posted by Ralph F. Blecha on Nov 8th 2018

The Holy Gospel is a beautiful book to behold. The print very bold, the red and white artwork is awesome and the size of the book is perfect. I an so pleased to have my copy. It is a treasure to have, to read, to use for meditation and to share with others. Thank you very much.

Beautiful Book

Posted by mo'in on Nov 8th 2018

Greetings,

I waited patiently for the new book, "The Holy Gospel."

The wait was well worth it!

The book is really beautiful. It's hard cover is well made, of a wonderful color, and with a fine texture.
The text itself is wonderfully laid out.

For contemplation of the Gospels for oneself and/or as a gift for others, this new book, "The Holy Gospel," is a beautiful choice!

nice, compact and easy to carry and will start using it

Posted by Unknown on Nov 8th 2018

Suggested the legacy icons website to others and where I got the pocket Gospel from. Maybe next time legacy icons are going to work with "a certain" printing group make sure and get things straight with that of the printing group. I don't have a Gospel handy with me, so I used an Orthodox study bible to read the gospel, and thank God I came upon legacy icons. Again, thank you. I am a priest and I am assigned by my bishop to a mission who's starting out as a small group who's trying to be the first Orthodox Church in this mission community of moravians. Please keep us in your prayers as it is tough doing mission work.

Great Little Gospel

Posted by Unknown on Nov 8th 2018

*Very* much worth the wait. It's small and fits perfectly in your hand, so it's perfect both for laity at home and priests on the go. It's formatted slavic-style, so the passages are in the biblical order, meaning it can be used as a regular bible (which was an intention of the publishers). Indices in the back say what to read on what day. They are very complete, listing Gospels even for local saints. It has Paschalia for all three calendars (Old, New, Western) through 2100. The translation is both clear and accurate, with notes explaining the translation in the case of words with a more complicated meaning. Pages are thick and sturdy (not flimsy like most bible paper). However, I'm afraid to rub off the gilding on the cover over time (which happened to my psalter), so I'm careful with how I hold it, grabbing it by the bottom edge.

Surpassed Expectations

Posted by on Nov 8th 2018

Truly beautiful. Worth the wait.

Better than expected.

Posted by Jim McFerrin on Nov 7th 2018

Larger than I was expecting, so I was very pleasantly surprised with the size. (Item is only slightly smaller than my Lancelot Andrewes Book of Common Prayer, the same size but a bit thicker than my Episcopal Book of Common Prayer).
Extremely satisfied with the quality. This book would be ideal for Home use, but is of sufficient quality for a Priest's traveling kit or a small Chapel.
Item is listed as a Pocket Book, but do not let that discourage your purchase, this is a quality, usable Gospel Book.

Beautifully done

Posted by Heřmánek on Nov 7th 2018

This gospel book was beautifully put together, with a great translation. It's great for priests, I purchased one as a gift for my priest, and he says it was perfect for his travel bag.

The translation is also a good one, which is formal and easy to understand.

Pocket Gospel

Posted by Unknown on Nov 7th 2018

I like the clarity of the print in this book, makes it easy to read for its smaller size. Nicely printed and organized.

Stunning!

Posted by Evan on Nov 4th 2018

This is how the Holy Gospels should be.
Starting with the cover. It's a beautiful red with gold art on it. It envelops the Good News of the Lord with the beauty and high quality that it deserves.

The paper used is a rich think and high quality paper which makes the black and red text and art look beautiful.

Overall, you can tell that time and love was put into this and should be the primary Gospel book to own. Without hesitation, I easily recommend it!



A Necesity for Christians Everywhere

Posted by Anonymous on Oct 31st 2018

I am a supporting donor of the project to bring this book to print and I could not be more happy with how this turned out. Everything Legacy Icons had planned and promised was delivered and delivered well.

I had been wanting a book of gospels for personal use for some time. All the offerings in current print from other publishers were not suitable for travel and I do travel frequently. This book is a perfect size for keeping at home or taking with you.

The quality of the book itself is very high. So many modern published books use low quality glue or paper in the binding to cut cost, but every book I have from the printer who created this gospels book (and other materials from other religious bodies) is very well made.

I hope to use this book for many years and that it can bring the Word of God to many in the world. Treat yourself with this work, you won't regret it.
Find Similar Products by Category